Service Application
Along with pouches and film rolls, we also provide value-added and cost-saving services for food packaging accessories including labels, degassing valves, tin ties, etc.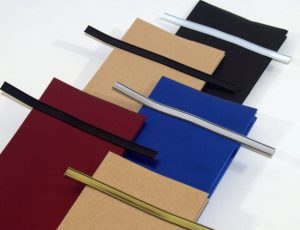 TIN TIE Not every coffee pouch will be applied with a resealable zipper, such as the side gusset pouch. Tin tie is used for re-closure in this case. Adhesive backed tin tie will allow you to close your coffee bag tightly, which will keep coffee beans or ground coffee stay fresh. East West Packaging offers tin tie application service with a wide selection of tin ties for your choice.
VALVE Fresh coffee beans or ground coffee release CO₂ after roasting and sealing, and there is also some remaining Oxygen inside. One-way degassing valve is very useful because it will allow air out from inside coffee bags without letting outside air in. And you won't worry about the coffee bag bursting anymore. East West Packaging offers valve application service with the selected quality one-way degasing valves.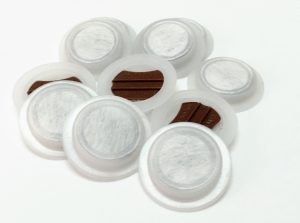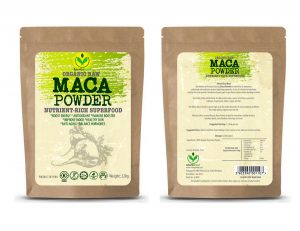 LABEL Pre-made custom printed pouches require higher MOQ to start with. Custom printed label is an additional application to your bags when you want to display your company or nutritional information, and they can be customized in various shapes, sizes or colors. East West Packaging offers efficient and accurate label application service to save your time and costs!
HOT STAMPING Hot Stamp Printing is the perfect packaging solution for short runs, special offers, upcoming events, and research & development test-marketing projects. A growing number of packaging designs are moving toward clean, simple art. EWP hot stamping service can help you achieve this softer look. We can hot stamp most of our stock packaging styles and structures using a print die with your artwork or logo. Give us a call for more information on the art requirements, templates, and printing guidelines.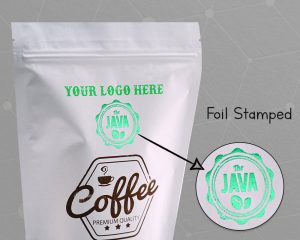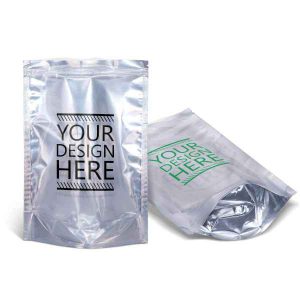 SCREEN PRINTING Screen printing involves creating a stencil (printers call this a "screen"), and then using that stencil to apply layers of ink on the printing surface. Each color is applied using a different stencil, one at a time, combined to achieve the final look.The Screen Printing process allows for a simple, uncomplicated three to four color printing run with a fast turnaround time. Only 7 – 10 days is needed to print. This is a very flexible printing technology, with no limitations on the thickness and nature of the material on which the printing will be carried out, so it's a good choice if you have short runs plant bags on hand or buy our stock inventory and hope to print your company logos on the bags.
STOCK INVENTORY Keeping stock inventory pouches is one of the reasons that make us unique and one of our ways to serve our valued customers. This allows us the flexibility to serve different industries with standardized pouches that cater to different volume ranges. We offer a stock inventory selection of more than 200 different sizes and colors. Deliveries can be ready for shipping within 7 business days!
Our stock items include aluminum pouches, clear poly pouches, clear/aluminum pouches, metalized pouches, windowed pouches, kraft paper pouches, etc.
We supply to meet the demands of wholesalers, retailers and end users.
Along with pouches and film rolls, we also provide food packaging accessories, labels, degassing valves, tin ties and various other products and services. Contact us for stock catalog!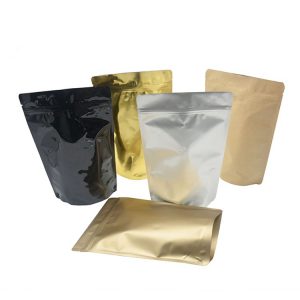 As a quality flexible packaging manufacturer located in Shanghai, China, we specialize in offering a wide variety of flexible packaging solutions with diversified custom capabilities and featured stock inventory available to meet the needs of worldwide customers from various industries such as health foods, general foods (snacks, coffee, tea, cookies, candies, nuts, etc.), pet foods, electronics, chemical (laundry detergent, cosmetics, etc.) and agriculture (fruits, vegetables, etc.). We supply a full line of pouch styles including the stand up pouch, flat pouch, side gusseted pouch, flat bottom pouch (box pouch) and roll stocks with featured products of paper kraft pouch, spout pouch, poly foil pouch, etc. available for your choice. Our sophisticated printing capabilities backed up with FDA approved food-grade materials will allow your graphics to appear exceptionally vibrant and your food packaging bags trust-worthily safe. Contact us today. Our team will work one-on-one with you to ensure your pre-formed pouches are fully customized for your packaging needs.