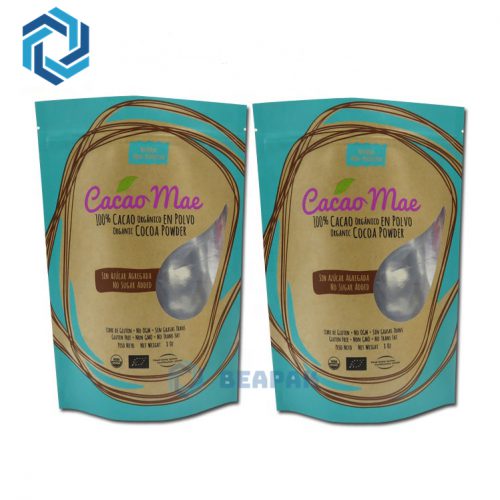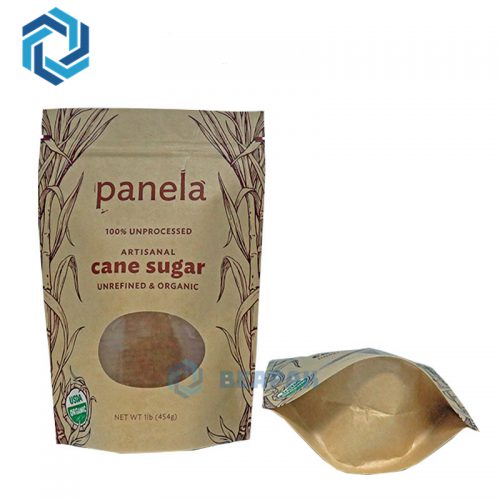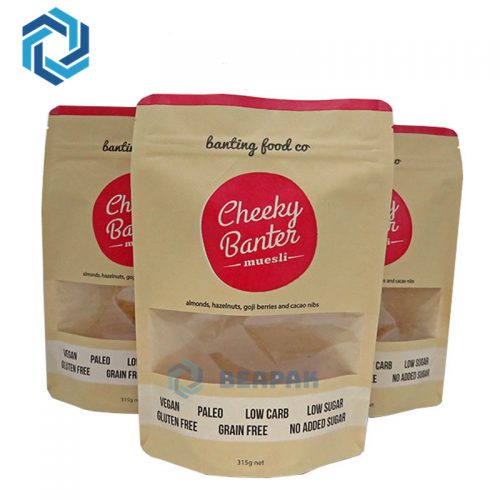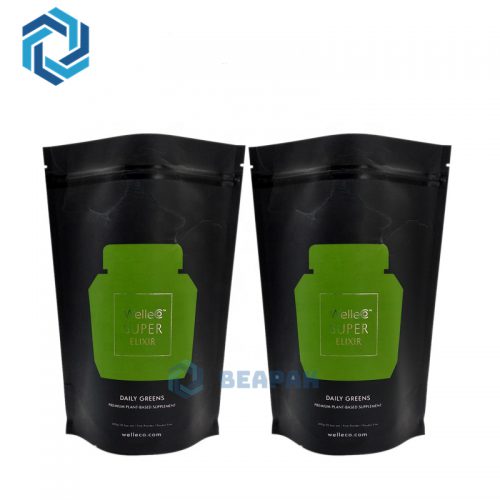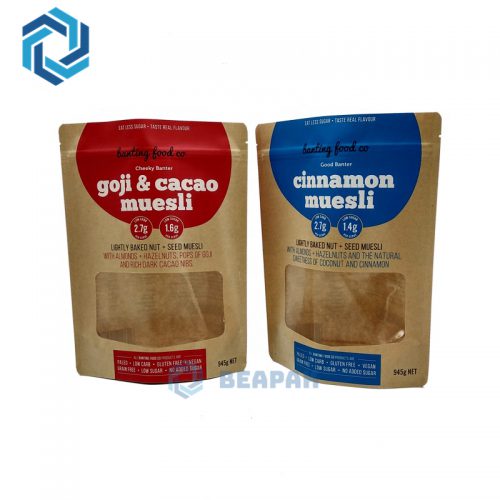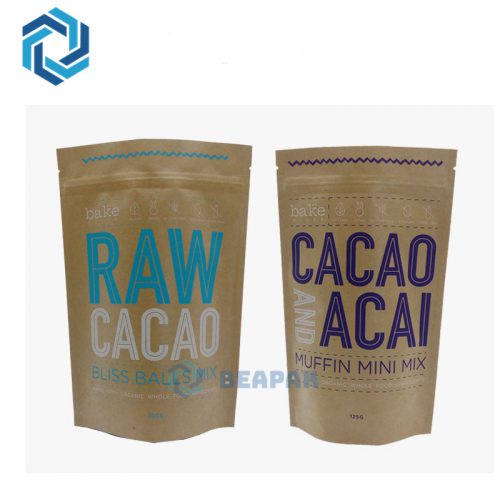 FEATURES 
Paper bags, typically including 
Kraft Pouches
 and Rice Paper Pouches which are laminated with poly or foil liner, have always been a popular choice for a more ecologically friendly packaging option.
Kraft Pouches: We always keep the consistency of Kraft paper color year around as we have stable and reliable suppliers of Kraft paper raw materials. We also have advanced window cutting and laminating technology, which ensures the window on our Kraft pouches without any wrinkle.
Rice Paper Pouches: The rice paper provides the natural look and feel that today's retailers are looking for since natural rice paper and flexible packaging can be marketed as a greener and eco friendlier way of packaging than most conventional packaging. The recyclable aspect of rice paper makes it an attractive selection to environmentally conscious consumers.
Serving Markets
Snack Foods, Bakery Products, Confectioneries, Coffee, Tea, Granola and various other applications
Customizable Options
– Brown Kraft Paper, White Kraft Paper and Rice Paper are optional.
– Knocked out window is optional on flat pouches and stand up pouches, but there are restrictions on the window size.
– Direct printing on paper: 1-3 color simple printing
– Outstanding Printing when laminating with substrates such as PET, OPP, Matte OPP: up to 9 colors
– Applicable to various bag styles: Stand up pouch / Flat pouch / Side Gusseted Pouch
Note: The color of Brown Kraft paper changes slightly per production. 
Supply A Great Range Of High Quality Kraft Pouches
BEAPAK has been established as a quality manufacturer of flexible packaging pouches . Customer satisfaction is key to our success. In this industry, we have built up a great reputation for our dedication to getting our clients the best deal. All of our flexible packaging options are competitively priced and you can rely on our knowledgeable team to provide a service that is second to none. We are an established Chinese supplier, selling directly to our clients who come to us from many different industries for our diverse range of products. By specialising in the Confectionery, Coffee, Ethnic and Organic Food markets, we have become experts in this field with an understanding of what our clients expect from us and the products they order.
BEAPAK Solutions prides ourselves on our ability to assist you with your packaging needs as we are certain that our comprehensive stock and ability to produce custom orders means that you will find exactly what you are looking for here on our website. Bulk discounts are always available and, being based in Shanghai, we offer world-wide fast delivery to ensure a time-efficient service is maintained at all times.
As a quality flexible packaging manufacturer located in Shanghai, China, we specialize in offering a wide variety of flexible packaging solutions with diversified custom capabilities and featured stock inventory available to meet the needs of worldwide customers from various industries such as health foods, general foods (snacks, coffee, tea, cookies, candies, nuts, etc.), pet foods, electronics, chemical (laundry detergent, cosmetics, etc.) and agriculture (fruits, vegetables, etc.).   We supply a full line of pouch styles including the stand up pouch, flat pouch, side gusseted pouch, flat bottom pouch (box pouch) and roll stocks with featured products of paper kraft pouches, spout pouch, poly foil pouch, etc. available for your choice. Our sophisticated printing capabilities backed up with FDA approved food-grade materials will allow your graphics to appear exceptionally vibrant and your food packaging bags trustworthily safe.   Contact us today. Our team will work one-on-one with you to ensure your pre-formed pouches are fully customized for your packaging needs.