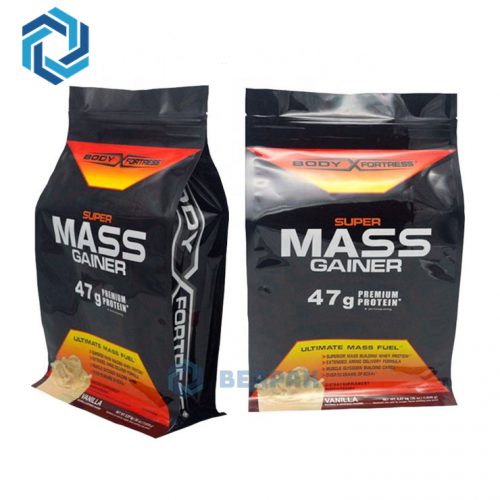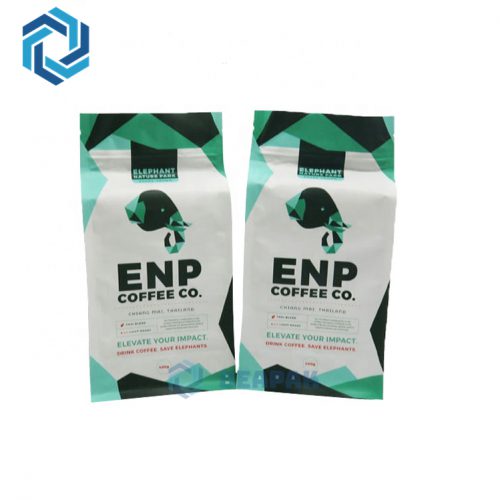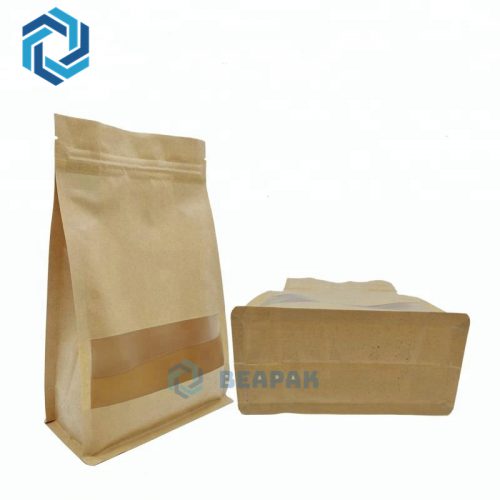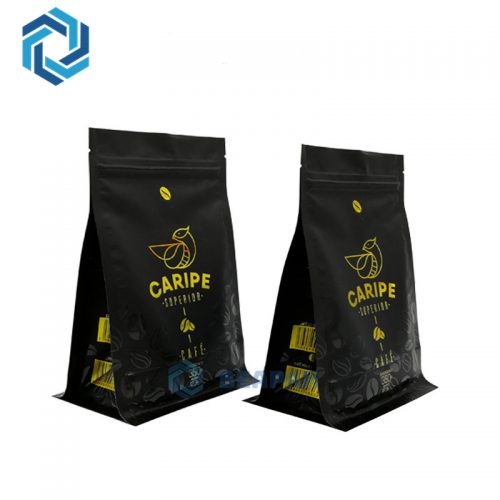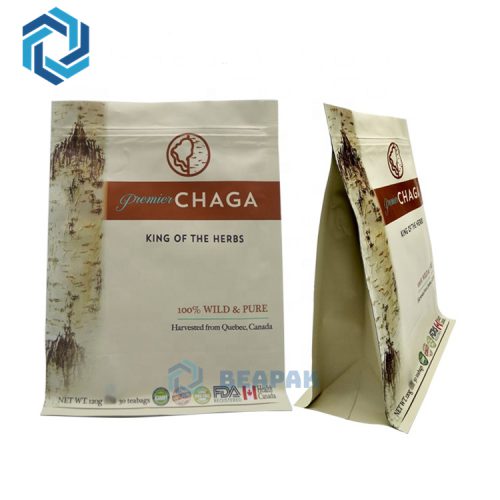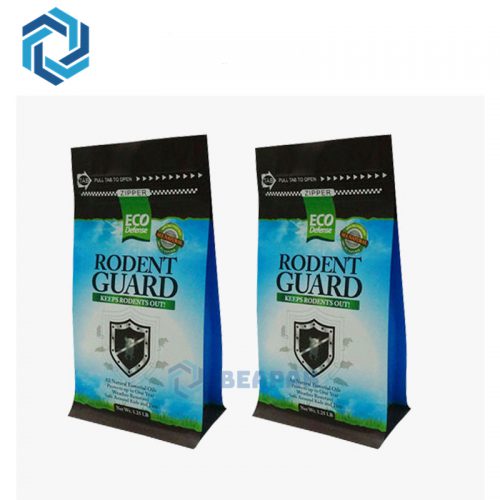 SERVING MARKETS Coffee, tea, confectionery, biscuits, pet food, organic products, chocolates, muesli, spices, pulverulent products such as industrial glue, chemicals, and cocoa powder, pharmaceuticals, etc.
FEATURES Flat bottom pouches are the new kid on the block. The style of this pouch is getting more and more popular for the food product packaging high-end company. Flat bottom pouch is more expensive than other types of flexible packaging pouches. However, due to the convenience and the good looking, the flat bottom bag is getting famous. Flat bottom pouches have many names, such as block bottom pouch, brick pouch, square bottom bags, box bottom bags, box pouch, quad sealed flat bottom, three side gusset bag, etc. Flat bottom pouches look like brick or box style. This type of pouch has gussets on the left and the right side as well as on the bottom. The flat bottom bag is able to save fifteen percent of packaging material because of its unique design. We could also save space of the shelves in the supermarket for the flat bottom pouches stand tall and the pouch width is narrower than stand up pouch. Thus, for food manufacturers, this type of bag can save money for paying less to the space of supermarket's shelves. So this bag is called environmentally-friendly packaging bag. FLAT BOTTOM POUCHES ADVANTAGES 1. A selection of materials that guarantees the organoleptic properties of the contents 2. The flat bottom pouches offer an innovative solution that combines five printable sides as well as excellent shelf appeal for merchandise 3. The box shape minimizes wasted space inside the package, while providing a more stable base for shelf placement 4. A flat bottom pouches for excellent stability
Customizable Options
Materials
Per customer's packaging needs. Using materials such as clear poly, metalized films, foil laminations and kraft paper. All pouches are made of food grade solvent free packaging materials.
Sizes
Per customer's packaging needs
Styles
Quad sealed flat bottom
Re-sealable Features
- Press-to-close zippers: Economical and commonly used
- Tin Ties: Available in Plastic and Kraft
Additional Features
- Tear notches
- Degassing Valves
- Knocked out windows providing a sneak peek of what's inside: clear window, frosted window, or matte finish with glossy clear window
- Laser scoring or laser perforation
Printing
- Glossy printing
- Matte finish printing
- Glossy printing with spot matte finishes

Gravure printing allowing for 1-10 colors as per customer's design and requirements. Using food-grade inks which comply with Japan, EU and US requirements.
As a quality flexible packaging manufacturer located in Shanghai, China, we specialize in offering a wide variety of flexible packaging solutions with diversified custom capabilities and featured stock inventory available to meet the needs of worldwide customers from various industries such as health foods, general foods (snacks, coffee, tea, cookies, candies, nuts, etc.), pet foods, electronics, chemical (laundry detergent, cosmetics, etc.) and agriculture (fruits, vegetables, etc.). We supply a full line of pouch styles including the stand up pouch, flat pouch, side gusseted pouch, flat bottom pouch (box pouch) and roll stocks with featured products of paper kraft pouch, spout pouch, poly foil pouch, etc. available for your choice. Our sophisticated printing capabilities backed up with FDA approved food-grade materials will allow your graphics to appear exceptionally vibrant and your food packaging bags trust-worthily safe. Contact us today. Our team will work one-on-one with you to ensure your pre-formed pouches are fully customized for your packaging needs.